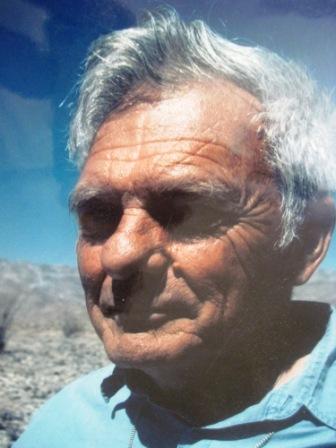 Special Annoncement!!!!!
JAY C. VON
WERLHOF
Sept. 13, 1923 - Dec. 10, 2009
A memorial service will be held Thursday, December 17 at 1 p.m. at Hems Brothers Mortuary in El Centro for Jay C. von Werlhof, 86, of Ocotillo who died Thursday, December 10 of after battling a long term kidney illness. Burial will be held at a later date.
Jay was born September 13, 1923 in Red Bluff, California. Jay was drafted into the US Army from high school at the age of 20; he served in the Army during WWII as a Sergeant. Most of his time was spent in Europe, intercepting, decoding and translating messages during many battles, including the Battle of the Bulge. In 1946 he entered the University of California, Berkeley majoring in History. He was a student of famed historians Herbert Bolton and Robert Stamp, and archaeologist Robert Heizer. He taught college at the San Francisco School of Fine Arts, Chico State University, California Poly San Luis Obispo, and various California community colleges and high schools. He received his Masters Degree from Berkeley in 1954. He was an incredible artist and illustrated archaeological site records and articles for Berkeley. He spent several years at UCLA working on his PhD in Intellectual History. In 1973 Jay was offered a job teaching archaeology, history, and Indian studies at the San Diego State campus and at Imperial Valley Community College. He wrote many important books and articles on the archaeology and Indian history of the California Deserts and documented more than 10,000 archaeological sites in Imperial County. He conducted archaeological research in all of California's 58 counties. He was largely responsible for establishing the Imperial Valley College Desert Museum and was an emeritus director. As an archaeologist Jay was very proud of his work with local Native Americans to save their history. Among many honors he received were the Lifetime Achievement Award and the Mark R. Harrington Awards from the Society for California Archaeology and a Congressional Proclamation from Congressman Bob Filner. He was also past president of the Society for California Archeology.
He was preceded in death by his parents, Victor and Bess von Werlhof and various siblings.
Survivors include his loving wife, Sherilee Torrence von Werlhof of Ocotillo, California; son, Mark Lincoln and his wife, Stephanie of Santa Rosa, California and their children, Jessica and Kevin Brenk and Brian and Heather Lincoln and great-grandchildren, Matthew Brenk and Billy Lincoln; and son Erik von Werlhof and his wife Betty of Sacramento, CA. and their children Evan and Emily, "adopted son" Steve Lucas as well as his mother-in-law Dorothy Torrence of El Centro; and numerous nieces and nephews and cousins throughout the world.
The family suggests that in lieu of flowers donations be made to: the Imperial Valley Humane Society, 1575 Pico Street, El Centro, CA 92243 and to ASM PARC, The Jay von Werlhof Research Fund for the Study of Earthen Art, 2034 Corte Del Nogal, Carlsbad, CA 92011.
LOCATED IN IMPERIAL COUNTY, CALIFORNIA, USA, THE IMPERIAL VALLEY COLLEGE DESERT MUSEUM SPECIALIZES IN THE ARCHAEOLOGY OF THE IMPERIAL VALLEY. HERE YOU WILL LEARN ABOUT THE PREHISTORY OF THE FIRST PEOPLE OF IMPERIAL COUNTY. EVERYONE IS WELCOME. IT WILL OPEN SOON. THE IVC DESERT MUSEUM SOCIETY IS HARD AT WORK WITH EXHIBITS IN ORDER TO OPEN THE MUSEUM AS SOON AS POSSIBLE.

Thanks to
all our supporters -- Its time to install the exhibits in the IVC Desert Museum.

Since losing our original museum site to earthquake damage in 1978 the Imperial Valley College Desert Museum Society, along with its many supporters in Imperial Valley, has been hard at work. Originally the museum was known as IVC Barker Museum, after we lost our original site and moved to the new location the name was changed to IVC Desert Museum.

Over the years many fundraising events have been held and grant funding received. Finally the museum building is nearly complete and exhibits are being designed and constructed.
The Museums founder Jay Von Werlof